September 5, 2014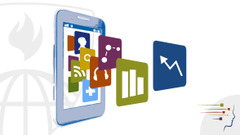 The ninth and final course prior to the capstone in Johns Hopkins Data Science Specialization on Coursera is Developing Data Products. This is the third and final course in the sequence taught by Brian Caffo. After taking the lead on two statistics courses, Statisical Inference and Regression Models, this class seemed to bring out a more humorous side in Caffo. On a couple of occasions, including the very first video, he had a bit of fun at his co-instructors expense with Go Animate videos.
The focus of Developing Data Products is on using R to create data products that can be viewed and interacted with by others without much (if any) knowledge of R. For creating presentations, the emphasis was on Slidify and R-Studio Presenter. For deploying data products to the web, we used Shiny, which allows users to create web apps with R. We also looked at certain R packages like googleVis that can make those web apps interactive. For example, a user could scroll over a map with a mouse and the states could respond to the cursor by revealing information about each state.
Almost everything about this class was a delight. I have to say that this may have been my favorite class in the entire sequence. It helps that by the time you arrive in the class, you have a pretty good grasp on working with R, so coding isn't as daunting as in earlier classes. Being able to deploy R to the web is an amazing power to have. My only regret is that the final project was due as my day job was getting started back up, so I had to keep it modest in order to complete it on time. I would like to go back and explore these tools more later.
There's a lot of freedom in the project, which involves creating a web app and making an R presentation in Slidify or R-Studio Presenter to "sell" the app. I imported the AP exam data and ran a few calculations on it. I have many friends and family who have asked me what exactly I have been doing in the JHU Data Science sequence. I've tried to explain, in most cases with little success. But showing people the app I completed in this class did seem to help them understand a bit more. I hope to talk more about Shiny apps on this blog at a later date.
The class concludes with a few lessons on creating R packages in week 4. This is another one of those situations, which I experience a few times in the JHU sequence, where the week 4 material feels kind of "tacked on." As has been the case with some other week 4 lessons, I had to rush a bit to get through this material and since it wasn't assessed in a project, I didn't master it the way I did with material from the first 3 weeks. Nonetheless, this course remains a favorite. Anyone who is in the middle of the sequence right now can look forward to finishing with Developing Data Products.
Click here to register for the Johns Hopkins Data Science Specialization on Coursera. (Affiliate link, thanks for your support!)